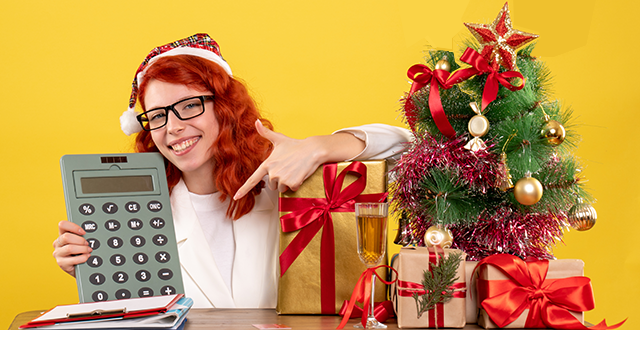 Six Months to Christmas – Strategies to Prevent Holiday Debt
It is June. Most of us would not wish to think of Christmas expenses just yet. But, if you find yourself running a mountain of debt during the holiday season every year, like most American consumers, this is the ideal time to plan and break the pattern of your ever-increasing holiday debt.
Here are some strategies that will help reduce the impact of the holiday season on your bank account and keep your spirits up long after the holiday lights have gone out.
1. Draw Up A Holiday Budget
First, ensure to account for your expenditure so you do not get behind on bills or rent. Next, consider what else you might spend on in the coming months. Are you throwing a party at your house or going to see family or friends? If so, calculate how much those items will cost you. After you've deducted any regular-budget items, assess how much money you can spend on decorations, gifts, travel, meals, and other holiday-related expenses. Do not forget the simple stuff, like décor, wrapping paper, boxes, holiday cards, and stamps, as these can add up quickly.
It is preferable to plan as soon as possible. That way, you can figure out how much you will earn between now and the holidays and how much you will need to save to pay your holiday expenses. Budgeting realistically will help you avoid overspending.
2. Create A Christmas Savings Account.
Once you have established how much you will save from now till Christmas, you can figure out how best to organize the finances so you do not spend it.
You can set up a monthly or weekly savings goal and transfer this amount into a savings account exclusively for Christmas or holiday expenses. You should automate your deposits.
You must also not be able to transfer dollars back and forth from this account so that you can avoid spending the money you are saving for the holidays.
When you reach your savings target, you will have enough to spend on gifts, travel, and visit family without feeling bad about it because that is the intention of this money! A Christmas Savings Account is an excellent way to save money and avoid debt.
3. Fund Your Holiday Savings With A Side Hustle
When you know how much money you will need for holiday expenses, you can take steps to save for it so that you do not end up with a credit card balance. Another effective strategy is to take on a side hustle. It is a part-time job that fits into your already hectic schedule.
Every year, many local retailers or restaurants seek part-time help, which could be a great side hustle if you have some time on weekends or evenings. But if you do not want to settle for standard part-time work, there are plenty of different methods to supplement your income. Here are a couple of such examples:
Selling stuff online
Pet sitting/dog walking
Rent out unused rooms or residences on platforms like Airbnb
Become a ride-sharing driver
Freelance writing
Virtual assistance
Blogging
Course creation and sale
Landscaping/Gardening
Making crafts to sell
Deliver food through companies like DoorDash
You might get through the holidays debt-free if you make roughly $100 weekly between now and late December. And who knows what else? You might discover that you enjoy your side job enough to continue it after the holidays, increasing your savings for next year's festivities.
4. Use Credit Card Rewards & Points
To minimize holiday debt, now is the time to redeem your credit card rewards points, store loyalty points, and other incentives. Take inventory of your points and rewards. Next, devise a strategy for using them to reduce your expenditure. For instance, you can:
Take advantage of cashback, credits against your balance, or even special bargains to purchase gift items from a point redemption outlet.
When possible, combine your retail credit card points with promotions to maximize your savings.
You can book flights using your travel credit card points. And, if you cannot locate the desired flight through your issuer's partner airlines, you can search for flights directly in the rewards section of your credit card.
If you are not traveling this holiday season, you could redeem the miles you have accumulated for store credit cards to purchase gifts for your loved ones.
You could also share your frequent flyer miles to give the gift of travel. Some airlines, like JetBlue, allow you to share points for free with family members.
5. Be Inventive In Your Gift-Giving.
Who made it a rule that we must buy expensive gifts for our loved ones? Of course, buying a present is a lovely way to show that you care, but there are other creative ways to come up with a thoughtful, simple, and economical gift.
A framed photo of a treasured memory, an engraved letter opener, tickets to an event or show, a decorative pillow, or anything lovely from a local antique mart or flea market could all be appropriate gifts.
Making your own Christmas gifts is another innovative method to save money. For example, you could make trinkets, decorations, holiday cards, and delicacies like cakes or cookies.
You might consider regifting a high-quality gift that you received. It is totally okay to regift thoughtfully.
You can provide valuable time as a gift. With our busy schedules, time is more crucial than ever. Planning an activity with your loved one will cost you nothing but will mean everything to them.
6. Don't Put It Off Till The Last Minute.
We are all busy, and it is normal to put off things like gift shopping and flight booking until the last minute. But here's the catch: Travelling and shopping get more expensive as the holidays' approach. It is simply an example of businesses profiting from consumers being in a hurry and out of options. You are not required to fall into this trap. Make a strategy, shop with intention, and stick to it. Also, plan ahead of time to schedule your flights. You will save a lot of money.
How do you stay out of holiday debt? Leave a comment with your best ideas and tricks!