What is Bankruptcy?
Bankruptcy is a way of dealing with more debt than you can ever pay back. If you are facing an extreme financial crisis, you may contemplate opting for bankruptcy. It is one of the least popular as well as the most undesirable choice a person can make, but ultimately necessary in some cases You should know all the facts before you declare bankruptcy as it harshly impacts your credit, and causes additional stress. There are different types of bankruptcy but for the most part, it can be divided into two types-liquidation and reorganization.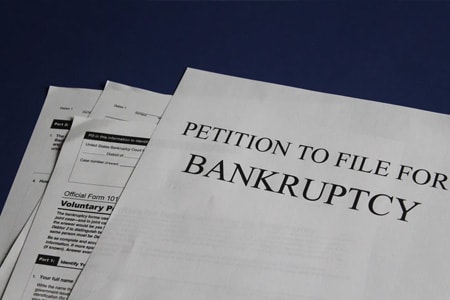 Chapter7
This form of bankruptcy is the most conventional one filed in the United States and absolves you from any obligation to repay your unsecured debt. You will be rid of all legal and financial responsibility from the debts you previously owe and start your financial life again with a clean slate and avoid further problems. You can consider this as a financial rebirth. However, the consequences can be serious and your credit can be negatively impacted for about 10 years. It comes under liquidation category because the bankruptcy trustee can take and sell off many of your assets to pay your loans. Unfortunately, Chapter7 bankruptcy will not clear any tax obligations or federal student loan. You are still responsible to pay those on your own accord.
It is important to be aware that nowadays it is becoming more difficult to qualify and meet the requirements of filing Chapter 7 bankruptcy due to The Bankruptcy Abuse Prevention and Consumer Protection Act of 2005 which has introduced stricter and more rigid means of testing its applicants.
Chapter13
Due to the additional testing it is becoming more difficult to qualify for Chapter 7 bankruptcy and people are being forced into filing Chapter 13 instead.
Chapter 13 is also called a 'wage earner plan' and is usually appropriate for a person who has income or assets above a certain level. It allows people who have a regular source of income to create a plan to repay all or part of their debt. Depending on the debtor's income the court determines the length of the plan and no plan can exceed five years. After that a repayment plan will be worked out and relayed to the Bankruptcy Court. All payments will be paid through this court. The court will distribute this money to your creditors to pay off your debts at the direction of a court-appointed trustee. The debtor also gets legal protection from creditors collection attempts.
It is different from Chapter 7 bankruptcy where you show that you do not have any disposal income (money left over after you pay your basic requirements like, utilities, rent and food etc.) As obtrusive as this process is homeowners have the potential of keeping their home by working out a repayment plan with their bank.
Unfortunately, both types of bankruptcy Chapter 7 and Chapter 13 will have a severe impact on your credit score and lifestyle. The decision to file bankruptcy should not be taken in haste. It is crucial to consult a licensed attorney in your jurisdiction before choosing this option.
If you feel that bankruptcy is the only option, then it is time to think again. We at OORAA pride ourselves in providing you with alternative options to bankruptcy and its severe consequences. We will provide you with better options to reduce and resolve your debt instead of bankruptcy which should be considered as the last resort.
Contact OORAA Debt Relief now at 888 888 9914 for a free consultancy. Our experienced Debt Consultants will examine your options for an alternative to bankruptcy.