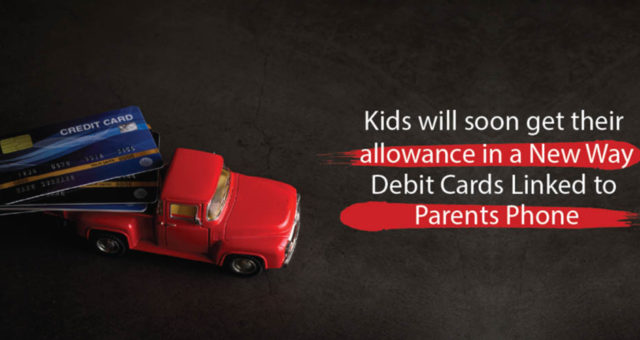 Kids Will Soon Get Their Allowance In A New Way: Debit Cards Linked To Parents Phone
Gone are the days when allowances were paid to kids in cold hard cash just the day after their own parents' payday, for achieving good grades or completing the chores allotted to them.
In our ever-changing modern world where people hardly ever carry any cash, it should not come as a surprise that kids also will receive their weekly allowance in an entirely new form. According to The New York Times children will now receive prepaid debit cards which can be reloaded by their parents. It is all due to the shift to digital currency and a cashless society. Some of the big fish that have introduced the latest "smart debit card" are Greenlight, Current, and gohenry.
What Are The Benefits For Parents?
At first glance, it may sound like an unnecessarily complicated approach of giving money to kids, but there are advantages in embracing this kind of financial technology.
No need of ready cash: Parents do not always have cash in hand and they can fall short if a child needs money for putting gas in the car, for an outing with friends or completing a chore. Parents can put money on their kid's debit card with only a few taps on their phone.
Adding allowance- Parents can add the kid's allowance to his debit card on a monthly or weekly basis. This means that you did not worry if you have the cash to give him or hoping he doesn't immediately lose it.
Set Guidelines:-The mobile app for Android and iOS helps parents to set guidelines for their kids not only when the money can be earned but also how it can be spent. For example, parents can set limits on how much a child can spend in a day or pull out of an ATM.
Approving transactions before hand–Giving digital insight – Parents can keep track of how their children are spending money and block the card from being used at certain restaurants, casinos, bar airlines and more that are not kid-appropriate or require the parents' knowledge and permission. They can also block selected merchants but only after the first transaction has taken place.
Disabling the credit card – The parents can completely disable the smart debit card if their child is grounded, or if they lose it.
What Are The Benefits For Kids?
No need to carry cash. –Paying allowance by card is a better alternative as kids will no longer have to carry a wad of cash and the benefit of the new allowance debit card is that their purchases can be rounded up to the next dollar to save the change.
Financial freedom – It gives the children an opportunity to handle money like an adult and learn the lessons that come with spending digital currency. It is a great tool to teach children about financial management.
Insights about spending habits– It is not just about spending but also emphasizing budgeting and saving. The kids can view their transactions, check the account balance and gain insights into their spending habits. They also offer built-in-savings feature which includes the ability to save the change by rounding up purchases to the next dollar or transferring money from the "spending wallet" to the child's main bank account.
Monetary Rewards-Parents can also offer up payments for specific chores that are not included in a typical allowance. In this way, kids earn more money. They will learn the importance of earning and being independent.
However, nothing in life comes free of cost. The current cost is about $5 per month. There are also discounted offers like $36 for a year. Some companies also offer multiple cards up to five kids at about $5 per family. This looks pretty affordable.
Still, the question arises whether or not this is the best way for kids to learn about money. But if the "Current Children's Account" debit card is the wave of the future, then there is no time like the present to learn about financial responsibility through their use.