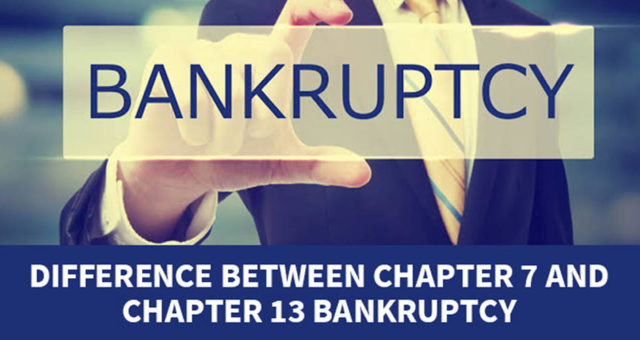 Difference between Chapter 7 and Chapter 13 Bankruptcy
Are you confused about whether to file a chapter 7 or chapter 13 Bankruptcy? Generally, bankruptcies are filed under chapter 7 or chapter 13 bankruptcy. Through this blog, you will figure out the differences between chapter 7 bankruptcy and chapter 13.
Chapter 7 Bankruptcy
This is a liquidation bankruptcy where most of your general unsecured debts like credit cards and medical bills are wiped out without any requirement of paying back balances with the help of repayment plan. In order to qualify for Chapter 7 Bankruptcy, you have to satisfy the income requirements. If you generate more money, your bankruptcy will be filed under Chapter 13.
Chapter 13 Bankruptcy
This is a reorganisational bankruptcy created for debtors having regular income who has sufficient left over every month for paying back at least a part of their debt with the help of a repayment plan. Chapter 13 bankruptcy offers many benefits that are not available for chapter 7.
Differences
Type of Bankruptcy – Chapter 7 is a liquidation bankruptcy whereas chapter 13 is a reorganization bankruptcy.
Who can file – Chapter 7 can be filed by individuals as well as business entities whereas for chapter 13 bankruptcy only individuals can file including sole proprietors.
Eligibility criteria – In order to pass the Chapter 7 means test you must have a low disposable income whereas for chapter 13 you should not have unsecured debt of above $419,275 and secured debt of $1,257,850.
Timing to receive a discharge – Chapter 7 bankruptcy takes about 3 to 4 months to receive a discharge whereas for chapter 13 it depends on the completion of the plan.
If you have any inquiry related to debt settlement or management, visit us at Ooraa and take our help to get relief of debt burdens and other issues.